December 8, 2017
Ahhh, a tropical vacation.
Nothing makes us feel as connected to Mother Nature as a swim beneath the sea, peeking glimpses at little schools of fish and navigating our way through the coral.
While swimsuits, sunglasses, and sandals are obvious must-packs – there's a little more to think about in terms of your off-duty beauty regimen. Salt water can be beautifully rejuvenating for your skin – but coupled with sunshine, it can also dry you out. With a tiny bit of extra effort, you can keep your skin looking nourished and glowing in any kind of weather.
Don't be a scrooge on the SPF
Most tropical vacays involve a little bit of sun worshipping – so you're going to need a pack a little ammunition. A powerful SPF will help see you through all your outdoor activities, no matter the temperature. A strong 50+ is necessary, and try to look for one that's non-greasy to avoid any potential breakouts.
Nourishing lip balm
Something all beauty gurus will tell you about your week beneath the palms? Do not neglect your lips. Your lips can burn just as easily as your cheeks, so make sure you have a moisturizing, SPF lip balm on hand at all times. Re-apply after every meal, swim, and cocktail. No compromise.
Butter me up!
Just like your sun-care regimen, you will need to keep on top of your daily body moisture routine. The salt, sun and fun will inevitably dry out your skin, so make sure you lather on a rich, vitamin-packed body butter after every shower or bath (See Raw Sugar's range of body butters here). This is your number one tool in keeping skin looking lovely and dewy.
Healing aloe vera gel
If, somehow, you do end up with a little bit of sunburn – don't be alarmed. You don't have to suffer through a series of painful, sleepless nights and even more painful showers – aloe vera is here to help. An aloe vera gel will help cool and soothe the skin so you don't have that burning sensation hanging over your head like a dark could on your sunny holiday.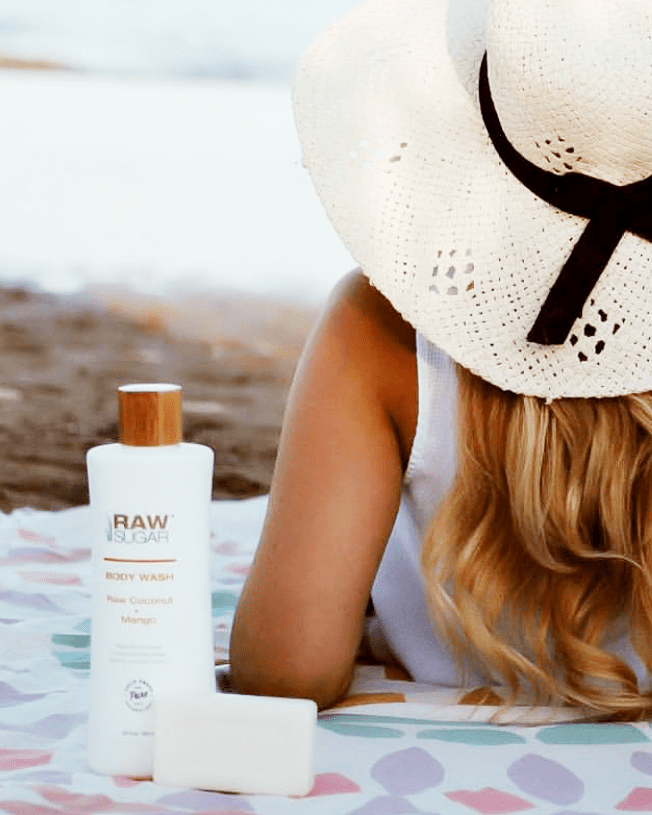 Image via @whatwouldvwear
Don't forget about H2o!
But, wait, isn't it humid on tropical islands? Yes it is, but because you'll be out in the sun all day and most likely enjoying a few cocktails – your body will get dehydrated… fast. And we know that dehydration is the fastest way to harm your skin. Keep hydrated by always having a big bottle of water handy – and remember, drink a big glass of water for every alcoholic beverage you consume.
Now that you're good to go… enjoy your trip!
November 6, 2017
SHOP NOW
Make your list and check it twice.
If you're anything like us, then you'd know that holiday shopping is a little bit like running late to an important party or meeting a hectic deadline work – a mad scramble.
So this year, why not get organised a little early and avoid the frantic last-minute Christmas rush?
We're stepping in to make life easy by compiling the ultimate holiday gift guide. Whether it be for your hard-to-impress boss, your thrift-shop-loving, eco-friendly bestie, or a mother-in-law who loves nothing more than an afternoon snuggled up on the couch – we've got all bases covered, so you can stress less and ease into the silly season poised and well-prepared.
If you're shopping for…
THE FITNESS FANATIC
We all have that friend. You know, the one who makes you feel guilty for *only* working out three times a week because they're at the gym every day – morning AND night? Yep, that one. A fitness fanatic can never have enough stylish sneakers – try and find a pair that shows off a bit of their personal style. Alternatively, a super-cute, BPA-free water bottle is another goodie.
THE ECO-CONSCIOUS FRIEND
This friend is a crusader – a lover of the earth and everything in it. They'll only buy ethically-made clothing, carry around an eco-friendly coffee cup and never, ever go to the grocery store without their big shopper bag. This guy or gal will love anything thoughtful or repurposed – think herbs in old tomato tins, cute handkerchiefs, and even organic wine (they're sure to do something clever with the bottle after it's been downed!).
THE HOMEBODY
This is for the buddy whose idea of a good weekend is one spent curled up in bed all day, cosy socks on and good book in hand. This person will love anything that will bring them comfort and keep them occupied on a rainy day in  – think fluffy slippers, comfy cushions or a good novel.
THE BEAUTY-HOLIC
This is the friend you go to when you need someone to do your makeup for a special event. She has all the best products and knows all the latest trends, and her bathroom looks straight outta Sephora. This beauty maven will love a lush, rich body scrub or body butter – something she can really indulge in. Raw Sugar's range of body care products are nutrient-packed and smell delicious beyond words – she'll thank you for it.
THE ADVENTURE SEEKER
Whether they're hiking up Everest or waking up in a campsite, this is a person who loves exploring the great outdoors. Get the adventurer in your life something that'll come in handy the next time they're exploring new terrain – a stylish but functional water flask, lightweight backpack or windproof jacket.
THE BOSS YOU WANT TO IMPRESS
This one's a bit tricky, but really – the gift you get your boss should reflect the relationship you have with them. Do you love going out for coffee together in the morning? Get them a quality, luxurious coffee blend. Prefer to talk business over a whiskey after work? A nice bottle of aged scotch will do the trick. Alternatively, a planner or a nice gift box will be the perfect gift – think Raw Sugar's Christmas Gift Box!
THE HARD-TO-SHOP-FOR DUDE
Don't listen to the stereotypes, because life experience shows that men are notoriously hard to shop for. Treat the dude in your life to something he may not have yet – quality grooming products. We're talking facial cleansers, moisturizers, and perhaps even a facial polish (like Raw Sugar's Pure Facial Polish). Men tend to enjoy gifts they can use on a regular basis, and we guarantee – he'll be addicted!