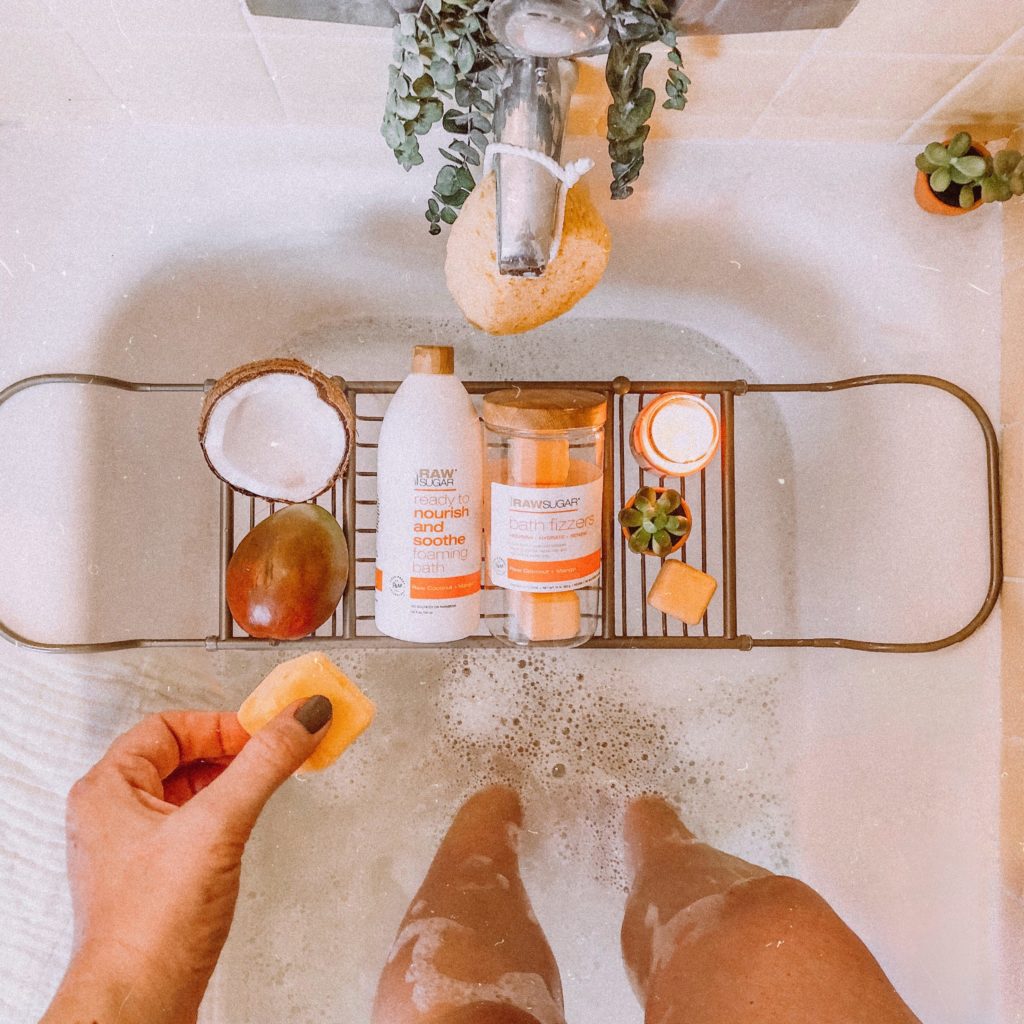 Whether you're a hardworking mom or overworked professional, you deserve some me time! We look out for our Sugars, so here are 5 of our favorite ways to unwind and avoid feeling burnt out!
#1 – Set time aside to meditate
Picture this. Full schedule ahead for the week, a plethora of tasks to do and all you can think about is what you're making for dinner.
Life is full on, but you still have to be present. Take 10 mins out of your day to meditate. If you need a little help, download an app like Headspace or Calm to walk you through a guided meditation. Meditating will help you to collect your thoughts and to recenter yourself.
#2 – Draw a relaxing bath that smells divine
Light an aromatic candle and grab an enticing book because you're going to spend a good amount of time relaxing.  
Try a Foam Bath or soak your body into a relaxing Sea Salt bath! It's the best way to have a little bit of fun and help you reset.
With a range of scents like Lemon Sugar, Pineapple + Maqui Berry_+  Coconut or Raw Coconut +_Mango, you will be on your way feeling zen and smelling divine!
# 3 – Get active and move your body
If your mind feels tired, don't overwork it, instead get you body moving. Being active helps release tension and increases our happy hormones, AKA endorphins. Go for a short walk, align yourself with nature and breathe in that fresh, crisp air! Or if you are really feeling, hit the gym!
Either way, it's important to get and stay active. Get your heart pumping and focus on yourself, because sugar, you are a 10!
#4 – Create a #SelfCareSunday routine
When you feel good, you look good! A personal self-care routine is vital when it comes to alone time. Dedicate a whole afternoon or night to yourself and give yourself some love with a self-care routine every Sunday.
#5 – Put your phone on do not disturb
The sound of silence is sweet, isn't it? In today's day and age, we have become so accustomed to our phones and electronics, the idea of unplugging sounds weird!
You won't miss out on anything. It's okay to check out for a little and be in your own presence without any devices. If you don't like the idea of turning your phone off, hit the 'do not disturb'.
Make your me time extra personal and at ease with Raw Sugar Living
We want you to live your best life, so check our range of hair care, body and bath care, lip care and personal care products that help you feel amazing and are healthy for your body!