We answer the 7 most frequently asked questions about this delicate skin type.
Love it or hate it, if you have sensitive skin – you have to take care of it. It requires a little extra attention and a tad bit more patience. But if you play your cards right, youe sensitive skin will become a total non-issue. In fact, you can even use it to your favor!
Here, we answer the 7 most frequently asked questions about sensitive skin.
1. What exactly constitutes 'sensitive skin'?
There are a variety of factors at play to making up what people call sensitive skin. But put simply, sensitive skin reacts unpleasantly to skincare products and chemicals. When diagnosing sensitive skin, dermatologists look for: skin reactions such as redness, bumps or erosion, very dry texture, or a tendency towards heavy blushing.
2. How do I know if I have it?
If it's common for your skin to get irritate or feel uncomfortable after using over-the-counter skincare, you probably have sensitive skin.
The best way to find out, of course, is to check in with a dermatologist. 
3. What should I look for in skincare products to ensure they don't irritate my sensitive skin? 
Products designed specifically for sensitive skin are usually your friends. Also look for products that contain no parabens or sulfates – and that are made up of mostly natural ingredients. 
Try to avoid products with harsh chemicals and way too many ingredients on their lists.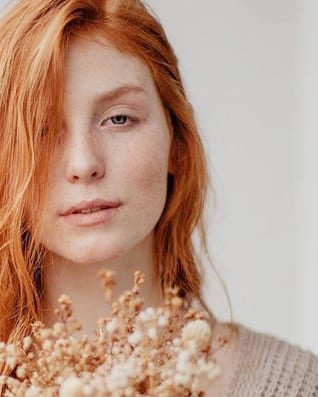 4. When using a new product, how should I test for skin reactions?
Patch testing is the way to go – after all, it's better to be safe than sorry! When you get a new product, place a small amount behind your war for a few days. If your skin reacts well, try the same thing along your temple. If you don't get irritated skin, the product should be safe to use.
5. How can I protect my sensitive skin against harsh weather conditions?
We hate to sound lime your mother, but you MUST wear suncream all year round. It's a non negotiable. And make sure it's one thats at least SPF 30+.
In the summer, you should generally try to avoid sunbathing and spending long periods of time in the hot sun – even if you have applied your SPF. UV rays are highly damaging and particularly so on your sensitive skin.
In the winter, try not to overheat your home. Have a good moisturizer on hand for skin and body to keep it hydrated, and always wash with paraben and sulfate free cleansers. 
6. Is sensitive skin genetic? 
It would appear that yes, sensitive skin and its associated conditions (includong rosacea and eczema) are inherited. 
7. What are the best tips for caring for my sensitive skin? 
Use skincare that has been specifically designed for your skin type. These products should be soap-free and light on harsh chemicals to avoid overworkinf your skin. When cleansing, be gentle – and avoid using chunky scrubs and exfoliators. 
Also, hydration is key. Stay on top of your moisturizing schedule and your skin will thank you for it.
PS – DID YOU KNOW that Raw Sugar is launching a BRAND NEW line of skincare created especially for SENSITIVE SKIN? Yup! It's made with natural, soothing, nourishing ingredients made to love and care for sensitive skin! More info coming soon… WATCH THIS SPACE, sensitive-skinned sisters!