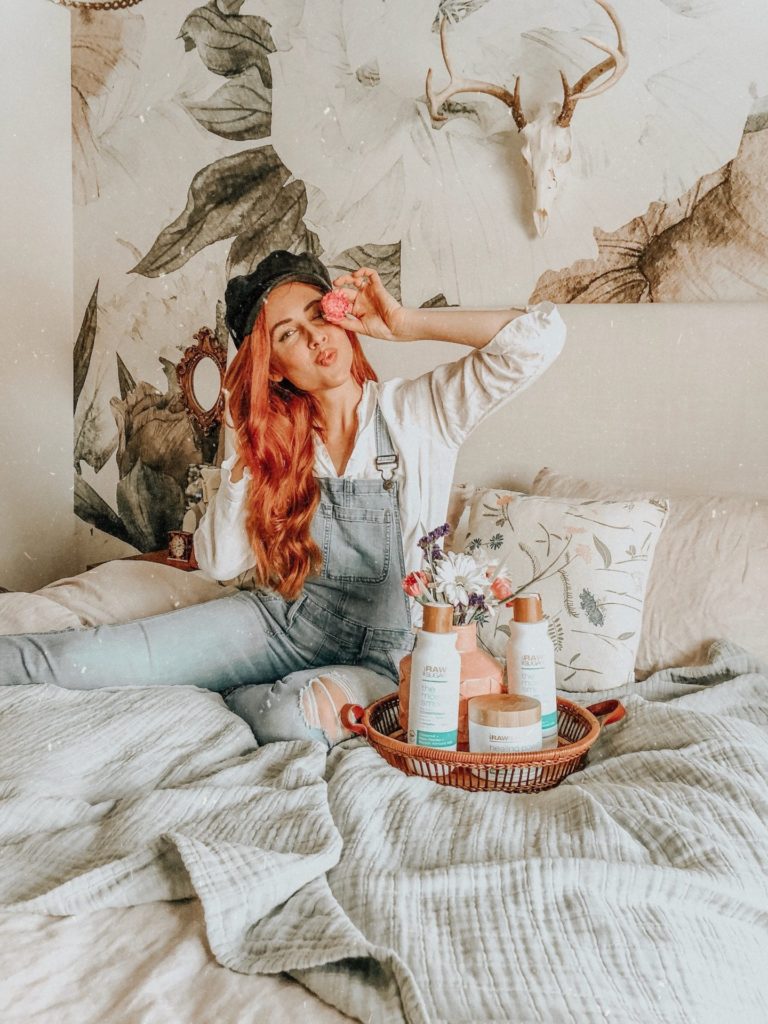 Image via @sophia.elrae
There's a new hair regimen on the shelves, and it's about to transform the way you care for your hair.
Following our philosophy of harnessing the purity and power of mother nature's most divine ingredients and processing them through ColdPress Technology® into skin-loving products, we've launched a brand new hair regimen that will nourish, enrich, and revitalise your hair… naturally.
At its roots, our hair regimen is all about pure blends of organic fruits, vegetable oils, organic extracts and superfoods – and the nutrients and vitamins they pack. These wholesome products get their power from ingredients found in nature and their heavenly scents from the essential oils locked into them.
Vegan-friendly, paraben and sulphate free – this is hair-loving goodness you can feel good about.
Without further ado, we'd like you to meet our hair's brand new best friends – we think you'll get along very nicely.

MOISTURE SMOOTHIE (COCONUT + RAW HONEY + SWEET ALMOND MILK)
Say hello to nature's miracle recipe for dry hair. Made to quench the thirst of moisture-deprived hair, it's packed full of intense hydration. Moisture Smoothie's natural blend of Coconut, Raw Honey and Sweet Almond Milk works overtime to support growth, soothe dry ends, strengthen and nourish parched hair – leaving you with shiny, well-moisturized locks.
The ingredients:
COCONUT OIL
Did you know coconut oil is incredibly good for your hair? This amazing natural potion improves scalp health, supports hair growth, and adds spades of volume and shine. Rich in antioxidants, coconut oil has powerful antiviral, antifungal, and antibacterial properties.
RAW HONEY
Honey is a powerful humectant, meaning it draws moisture from the air. This is especially good for overly-dry, overworked hair that's seen a few too many flat irons and blowdryers – and it works wonders on a dry scalp. Honey is an emollient, which helps to smooth and soften your tresses. The smoothing of the outer cuticle layer helps hair reflect more light and appear shinier.
ALMOND MILK
Almond milk is incredibly rich in protein, which means it's super effective in strengthening hair and reducing breakage. It also has the efficacy to tame fly-aways and smooth the texture of your hair. Additional nutrients in almond milk include potassium, magnesium, manganese, selenium and zinc – it's chock-full of good stuff.
The products:
MOISTURE SMOOTHIE SHAMPOO
-Perfectly cleanses without stripping hair
-Restores hydration levels in dull, dry, thirsty hair
-Helps minimize breakage and shedding
-Infused with nourishing vitamins and nutrients
-Improves elasticity
MOISTURE SMOOTHIE CONDITIONER
-Nourishes and softens hair
-Restores hydration levels in dull, dry, thirsty hair
-Infused with nourishing vitamins and nutrients
-Improves elasticity and hair breakage
THE BOUNCE BACK (MANGO BUTTER + AGAVE + CARROT OIL)
Sometimes your hair needs a little extra love. Maybe it's moisture levels have been depleted, or it's seen its fair share of overworking. Our replenishing The Bounce Back formula works to minimize hair breakage, improve elasticity and restore a healthy shine and bounce back into hair. Think of it as your hair's very own personal hero.
The ingredients:
MANGO BUTTER
If your hair is longing for a drink of hydration, Mango Butter is the perfect moisture-restorer. Packed with fatty acids and loads of beneficial vitamins, Mango Butter is great nutrient-rich food that works to soften the hair and prevent any kind of damage from the external environment.
AGAVE
A super-soothing hair humectant, Agave feeds your skin moisture and gives it a lustrous shine. A great benefit of Agave Nectar is the large molecules it is comprised of: polysaccharides, which have hydroxyl groups that make them attract water to nourish dry, thirsty hair.
CARROT OIL
Carrot Oil is magic. It plods away to stimulate the growth of new cells and is a natural source of vitamins A, E and beta-carotene – meaning dry tresses and scalps get to soak up some much-needed moisture.
The products:
THE BOUNCE BACK SHAMPOO
– Restores natural luster and shine
– Cleanses without stripping
– Gently rinses away impurities & product build-up for bouncy, more manageable hair
– Volume support
– Infused with nourishing vitamins and nutrients
THE BOUNCE BACK CONDITIONER
– Moisturizes without adding build-up
– Hydrates and balances
– Infused with nourishing vitamins and nutrients
– Leaves hair feeling revitalized and refreshed
HEALING POWER MASQUE (AVOCADO + BANANA OIL + COCONUT MILK + HONEY)
In this hair-worshipping, scalp-saving, hair 'masque' recipe – we combine the power of nature's best healing and moisturizing oils to restore health and life to love-deprived hair.
The ingredients:
AVOCADO
Avocado loves your hair just as much as you love avocado. With incredible powers in rejuvenating and moisturizing the scalp, Avocado is a rich source of proteins, amino acids and vitamins – meaning it helps soothe the scalp and promotes long, strong, healthy hair and strand growth.
BANANA OIL
Banana Oil is rich in potassium, natural oils, carbohydrates and vitamins which help in softening the hair and protecting its natural elasticity – all while preventing split ends and breakage. Banana Oil promotes manageability, shine, growth and works to keep dandruff under control by deeply moisturizing the scalp.
As for the Coconut and Honey, we've already covered the immense healing powers of those above – so you already know how effective they are on your hair.
Product benefits:
– Deeply penetrates to intensely hydrate and rejuvenate dry, damaged hair
– Nature's miracle formula to soften, balance, and intensely hydrate stressed-out hair
– Restores luster and shine
– Leaves hair feeling soft, shiny, and healthy
– Helps promote a healthy scalp