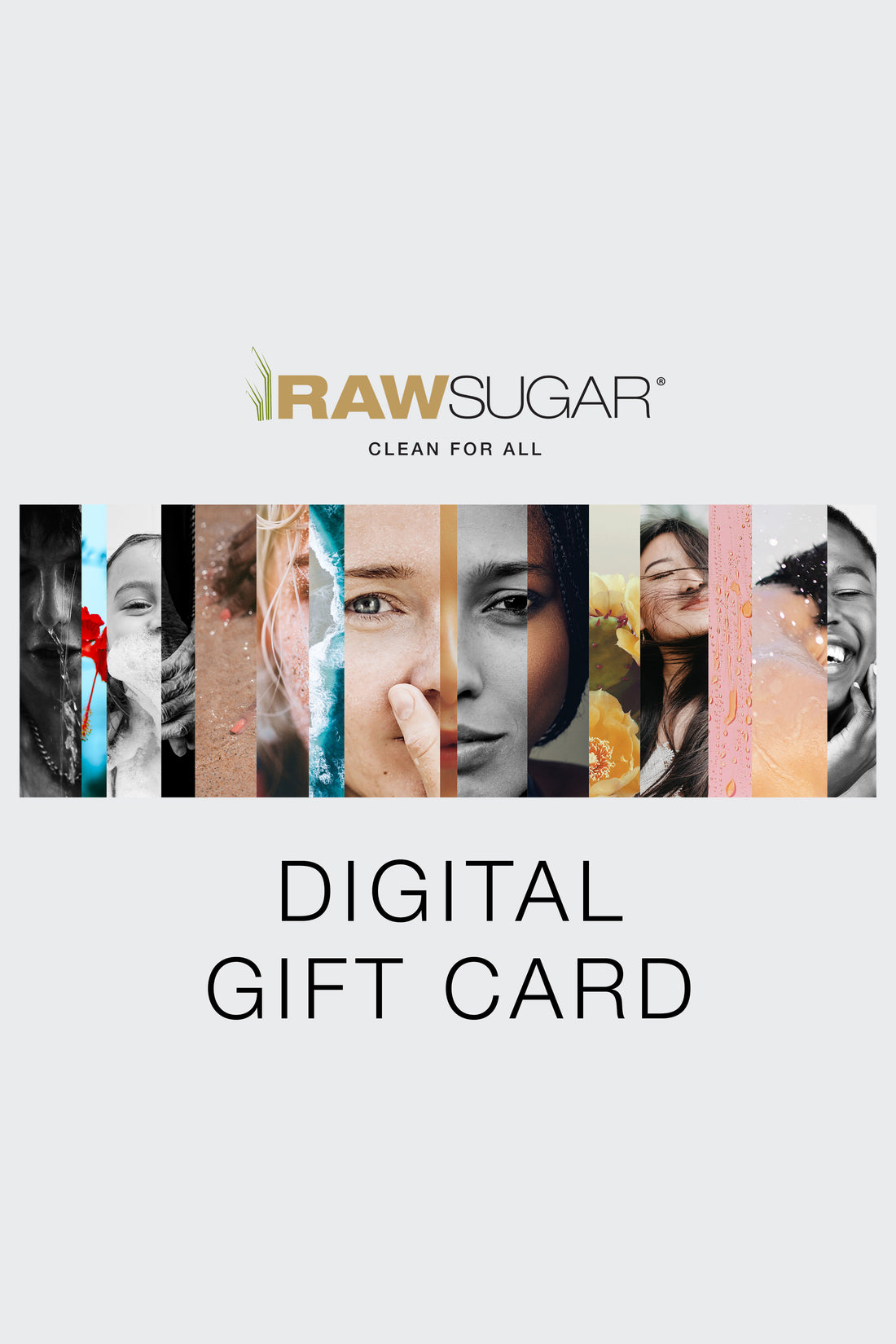 Quick. Thoughtful. Versatile.
Give the gift of Raw Sugar anytime!
Digital Gift Cards make giving the gift of clean, fresh, head-to-toe hair + body care quick and simple. A Raw Sugar eGift Card is a great gift for all ages, any occasion, season, or to simply show someone you care.
Kids in college? Someone went the extra mile for you? Why not surprise them with a little sugar...Raw Sugar, that is....
Or forgot that present? We've got you covered with an instant Raw Sugar Digital Gift Card.
- Raw Sugar Digital Gift Cards are available in $10, $25, $50, $100 denominations and redeemable online only via RawSugarLiving.com.

- When purchasing eGift Cards, promotional discount offers are excluded, such as sitewide discount codes. Note: Raw Sugar eGifts Cards never expire and are non-refundable.

- GIFTING: Once purchased, you'll receive the Digital Gift Card in your email inbox immediately, separate from the order confirmation. You can then simply forward it along to the recipient or print it out for an old-school touch. Or for iPhone users, you can quickly add it to your Wallet from the eGift Card email and then text it to your recipient, so they can seamlessly add it to their Wallet.

- When redeeming a Digital Gift Card, only one Gift Card can be used per transaction—and it cannot be combined with a discount code or Rewards Points.

- Earn Raw Sugar Rewards Points when purchasing an eGift Card. Note: When redeeming eGift Cards you cannot earn Points a second time, as Points were already earned when the eGift Card was purchased. If you purchase a product with an eGift Card and the order total is more than the balance—you will earn points on the difference.
Raw. Real. Good. Clean.
CLEAN FOR ALL
We stand for the real, raw authenticity of being human. For the respect of our planet and each other. We stand Clean For All because everyone deserves products that make them feel clean, beautiful, empowered and loved from the outside in. Truth. Love. Sugar.
Discover
Raw goodness
We Create With Care.
Our Cold Pressed Technology® is a specialized hydraulic process that gently extracts vitamins, minerals and enzymes from fresh whole fruits and plants, leaving the healthiest natural nutrients for your skin to soak up.
Learn More
A RAW STORY
We Lead With Love.
Founded in 2014 and built on love + passion. Co-Founders, Ronnie Shugar and Donda Mullis, are committed to providing the highest quality, earth-friendly hair and personal care products at a price that is accessible to all, supporting their belief that all of us are as beautiful as we feel.
Read More
Give us a follow
@rawsugarliving